Marubeni Chairman Asada holds British Market Council Board of Directors Meeting, Ordinary General Meeting and convivial party at British Embassy Tokyo
Date:2017/07/01(Sat)
On June 20, Mr. Teruo Asada, Chairman of Marubeni, who also currently serves as chairman of the British Market Council ("BMC"), held the BMC 54th Board of Directors Meeting and 45th Ordinary General Meeting, as well as a convivial party at the British Embassy in Tokyo.

Participating in the meetings were Mr. Chris Heffer, Counsellor, Director of Trade and Investment, Mr. Koizumi, Director, Trade and Investment Facilitation Division, Trade and Economic Cooperation Bureau, Ministry of Economy, Trade and Industry, and others. All agenda items were passed, including the appointment of Mr. Akiyoshi, Senior Executive Vice President of Marubeni, who also serves as Director of The Japan Textiles Importers Association, to the role of Director and Vice Chairman of the BMC.

At the convivial party, which featured a traditional Japanese drum performance, speeches were conducted by Ms. Esther Williams, Head of Trade, UK Trade and Investment, Mr. Asada, Mr. Akiyoshi, and Mr. Higuchi, President, Manufactured Imports and Investment Promotion Organization (MIPRO). H.E. Mr. Paul Madden, British Ambassador to Japan, whose official duties originally prevented his participation, was able to attend the event which received more than 100 guests.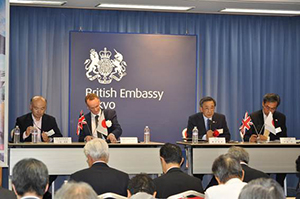 Mr. Asada, serving as chairman of the BMC, conducts the meeting proceedings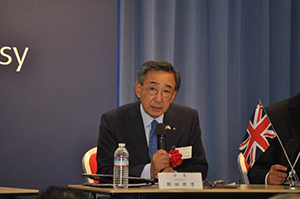 Mr. Asada delivers a speech at the meetings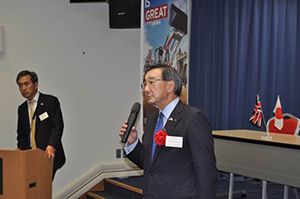 Mr. Asada delivers a speech at the convivial party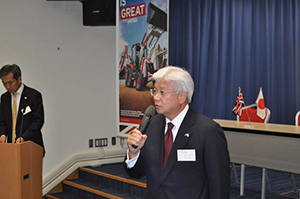 Mr. Akiyoshi, Senior Executive Vice President of Marubeni, delivers a speech at the convivial party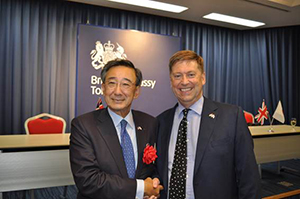 Mr. Asada and H.E. Mr. Madden, British Ambassador to Japan