HOME > About BMC > Foreword
Foreword
At the Board of Directors' Meeting and Ordinary General Meeting of the British Market Council held on 15 June 2021, I took office as the sixth Chairman of the British Market Council, succeeding Mr. Teruo Asada.

The UK-Japan EPA, which came into force at the beginning of 2021, is expected to further increase trade and investment between our two countries. I believe that this will help to develop good relations between businesses in the UK and Japan and create more opportunities for collaboration.

Continuing our predecessors' efforts to strengthen the ties between Japan and the UK, I intend to work with members and the British Embassy in Japan to lead the British Market Council and contribute to the development of economic relations between our members and the UK.

I look forward to your continued support for the future.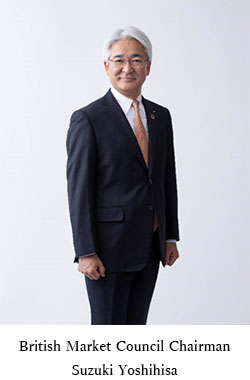 PAGE TOP ▲
British Market Council

World Import Mart Building 6F 3-1-3 Higashi-Ikebukuro Toshima-ku Tokyo Japan 170-8630
TEL: 03-3983-7306 FAX: 03-3983-7362

© British Market Council. ALL RIGHTS RESERVED.