Chairman Asada Led a British Market Council Mission to London

Date:2019/12/19(Fri)
From December 1st – 6th, Mr. Teruo Asada, Chairman of the British Market Council, led a business mission from the BMC on a trip to London, which is on the brink of Brexit.

The goal of this mission, which came to fruition under Chairman Asada, was to get an idea of the current situation with Brexit and what is likely to happen after it goes into effect, including its impact on the industrial world. This was the first BMC mission to U.K. since 2005.

There were just under 20 members of the mission from various business backgrounds, and in London they visited the Japanese Embassy, the British Department for International Trade, the Financial Times, Nikkei Europe, SMBC Europe, Barclays, Standard Chartered, Hitachi Europe, Arup and British Airways.

In addition to the predictions that the ruling Conservative party, led by Prime Minister Boris Johnson, would win in the general election (as of the time of publishing, the Conservative Party has won a landslide victory in the general election taking place December 12th, 2019), the mission also heard confident opinions that London would retain its position as a European financial hub, even after Brexit. Additionally, the mission confirmed that both Japan and U.K. are committed to quickly concluding a FTA and sustaining the favorable relationship between the two countries.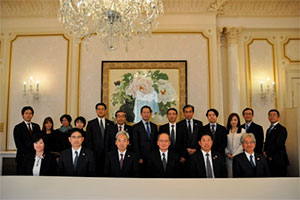 A group photo picture at the official residence of the Japanese ambassador to U.K. (first row, 3rd from the right: Ambassador Yasumasa Nagamine).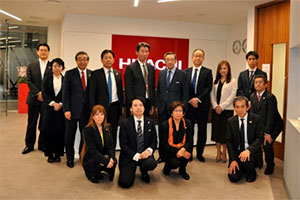 A group photo picture at Hitachi Europe (back row, center: President of Hitachi Europe Nishida).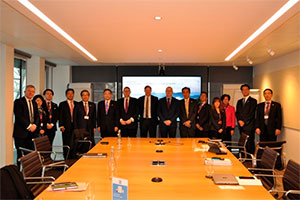 A group photo picture at Arup (7th from the left: Arup Chairman Alan Belfield)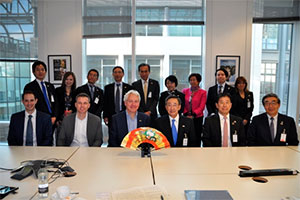 A group photo picture at British Airways (front row, 3rd from the left: British Airways CCO Andrew Brem)