Chairman Suzuki Holds the 22nd UK―Japan Business Partnership Seminar
Date:2021/10/19(Tue)
On October 19th, Mr Yoshihisa Suzuki, Chairman of the British Market Council ("BMC"), held the 23rd UK-Japan Business Partnership Seminar at the Business Center Yaesu Dori, Tokyo Station. Around 60 members and interested parties participated in the event both on site and online.

The theme of this year's seminar is "Initiatives and Challenges for Carbon Neutrality in the UK and Japan in preparation of COP26", as the 26th Conference of the Parties to the United Nations Framework Convention on Climate Change (UNFCCC) will be held in Glasgow, UK, from 31 October to 12 November, 2021.

Mr Umair Choudhry, Counsellor, Energy and Infrastructure, British Embassy, spoke about the UK's carbon neutral policies and challenges as the host country of COP26. Mr. Yuhei Ota, Deputy Director, Energy Strategy Office, Agency for Natural Resources and Energy, Ministry of Economy, Trade and Industry (METI), gave an overview of Japan's energy policy, which is still under consideration and has not yet been approved by the Cabinet (it was approved by the Cabinet on 22 October), and Mr. Yasunori Takeuchi, Chief Executive Officer, Japan, Standard Chartered Bank, gave a presentation on the Financial Service sector's role for Sustainability and it's initiatives and actions toward Carbon Neutrality.

The timing of the seminar was perfect, as COP26 was just around the corner and the topic was of great interest to everyone, so each lecture was followed by a lively Q&A session. It was a great opportunity to hear valuable opinions on the harmonization of the action to tackle climate change with stable supply of energy including fossil fuels, taking into account safety and economic efficiency, as well as Financial Service sector's initiatives and actions. There was also a chance for members to meet face-to-face for the first time this year.
General view of the venue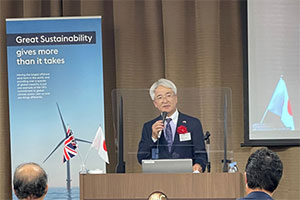 Remarks by Mr Suzuki, Chairman of the British Market Council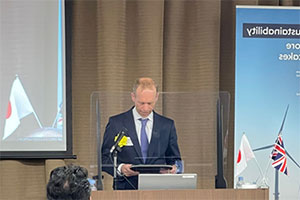 Remarks by Mr Darren Goff, Minister-Counsellor, Director of Trade and Investment, British Embassy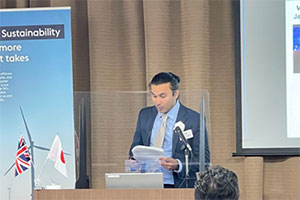 Speech by Mr Umair Choudhry, Counsellor, Energy and Infrastructure, British Embassy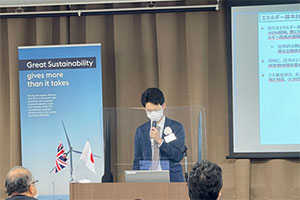 Speech by Mr Ota, Deputy Director, Agency for Natural Resources and Energy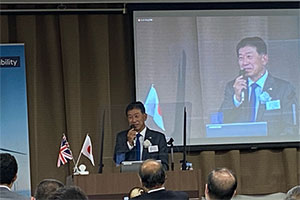 Speech by Mr. Takeuchi, CEO Japan, Standard Chartered Bank