HOME > BMC NEWS > 2021
Chairman Suzuki meets with Ms Carolyn Davidson, British Consul General Osaka
Date:2021/10/22(Fri)
On October 22nd at the British Consulate-General in Osaka, Mr Yoshihisa Suzuki, Chairman of the British Market Council ("BMC") met with the new Consul General, MS Carolyn Davidson, who took up her post in August this year. They exchanged views on the activities of the BMC and cooperation on the expansion of BMC membership in the Kansai region.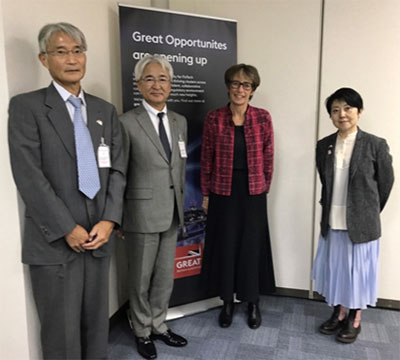 PAGE TOP ▲
British Market Council

World Import Mart Building 6F 3-1-3 Higashi-Ikebukuro Toshima-ku Tokyo Japan 170-8630
TEL: 03-3983-7306 FAX: 03-3983-7362

© British Market Council. ALL RIGHTS RESERVED.